Well, you have bit the bullet. You are engaged and it is time to commence with your wedding plans. Your first course of action is to order your wedding invitations. This is probably the first time you have ever had to do such a thing. There are numerous issues to consider and some rules that you may not be familiar with. So, in order to help you as much as we can, we have provided a brief guide to finding a wedding invitation professional. There are many options in the Philadelphia area. Let the journey begin and may it end with a talented invitation designer right by your side.
When should you start your search? Immediately. As soon as you know your wedding date. The first thing that should go out are your save-the-date cards and that should be about 8 months before your wedding date. Then you can move onto the invitation. We recommend using the same designer for all of your wedding print needs. It keep things consistent. It also can get you a discount as many designers will provide a discount if you use them for all of your items. Anyone you interview to be your designer should be able to provide you with a mock-up of a sample invitation. Also, find out what kind of connections they have in terms of a printer. This is important because if they have been working with the same printer for awhile, they probably received preferential treatment as a repeat customer. This can come in handy if there ends up being an error on the invitation and they need to be reprinted in a hurry.
Have them show you samples of past wedding work they have done. Do you like their style? Talk a lot about color combinations. Consider what your color scheme is for your wedding and of course the overall design and theme. Then make sure that the invitation reflects this. Another cost to consider is the cost of mailing. Have them weigh a complete sample and add up the postage cost. Of course you will want to see a proof before the design goes to press. Check this over very carefully and have two other people check it over as well before you sign off on it. Find out what the turnaround time is.
Once all of the pieces of your invitation are in, who will handle assembly of the various pieces and of any decorations you had in mind like ribbons and bows. This can be a lot more work than most people realize so we recommend that you leave it up to your designer. It may cost a bit, but it will be worth it. One extra check here, have a prototype put together and examine it before mailing. Also, consider how you want the envelopes addressed. Do you want the information printed or do you want to hire a calligrapher to hand write it. This is a very nice touch if you can afford it. And of course it always comes down to price. What is all of this going to cost you? Price isn't it the only factor, but it certainly is to be considered. But in the end, if you find someone who can design you something that knocks your socks off and they may cost a little bit more, it is worth it in order to be completely satisfied.
The Best
---

---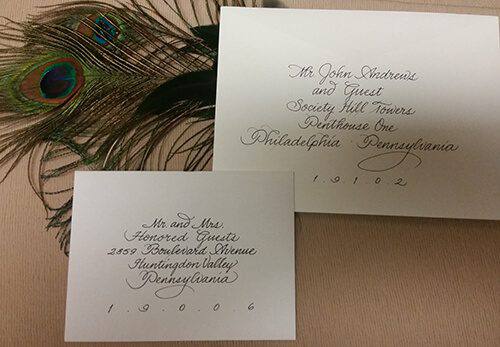 Calligraphy by Hand by Irene
---

April Lynn Designs
---